Best Torre Del Mar Car Rental Price Guaranteed!
Our online booking service is easy and fast. Reserve your rental car now and get competitive prices compaired to other competitors. Pay your vehicle on arrival.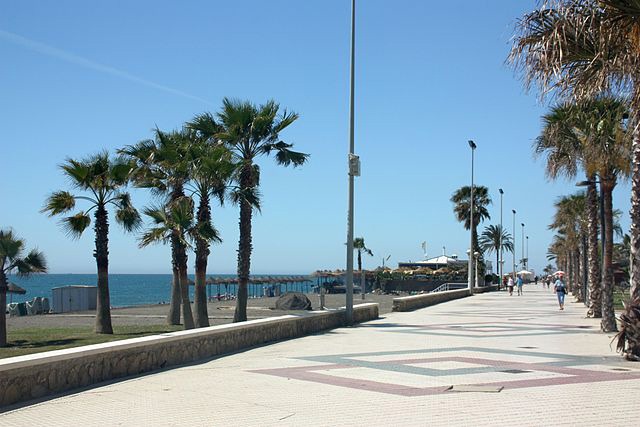 Torre Del Mar
Torre del Mar is a coastal town located in Vélez-Málaga, in the region of La Axarquía, in the province of Malaga, Spain.
The origin of the name of Torre del Mar comes from its watch tower, constructed with defensive character in the X or XI century, during the Muslim occupation of the south of Spain. From Solauto we put at your disposal the ideal rental vehicle to visit both Torre del Mar and its surroundings and make your holidays a period of rest and fun.
What to do in Torre del Mar
Torre del Mar is characterized by the environmental quality and extension of its magnificent beaches, as well as its promenade. Visiting Torre del Mar means taking a long walk through its more than four kilometers of maritime passage and beaches, which have earned it the "best maritime promenade of Europe", with the mountains on the right with white spots, that you can as well see the sea on the other side, certainly spectacular views and very accessible by renting a car is much more comfortable.
On the promenade of Torre del Mar there are several points worth stopping. Firstly, the lighthouse that lights over the promenade was placed in its current location in 1976, after several changes of location and structure. Its construction dates back to 1864.
Along the Paseo Marítimo of Torre del Mar there are also numerous sculptures located along the same, as the bust of its various altars to the Virgin of Carmen.
Another of the places of interest is the Paseo de los Poemas, where you can enjoy the most precious verses of Manuel Alcántara. Other places of interest are also the Temple of Music, where all kinds of performances are made, the Fountain of Solidarity, or representations of works such as Picasso's Guernica, which appear painted on different walls along the Paseo Marítimo de Sea Tower.
At the end of the walk of Torre del Mar, we find the sculpture of the Jabote or Marengo, the work of Jaime Pimentel (author of Cenachero de Málaga), in tribute to the men of the sea. From here, part perpendicular to the Paseo Marítimo of Torre del Mar called Paseo de Larios, a long avenue that connects the beach with the Church of San Andrés.
Non-Aquatic Sports in Torre del Mar
The region of the Axarquía is located in the Costa del Sol Oriental, also known as the Costa del Golf for various reasons. For starters it is important to note that we are in a place where golf courses abound, in which Solauto is the main supplier of rental cars. On the other hand, the weather is perfect for practicing this sport, and lastly, if you are a golf lover you should know that there are numerous golf courses that you can reach in an hour in your rental car.
In addition to golf, hiking and mountain bike are two activities you can practice in Torre del Mar, choosing for them both the Sierra and the coast.
Water activities in Torre del Mar
The climate of Torre del Mar and its 22 kilometers of quality beaches make this place an ideal place to practice nautical activities, some of which are easily accessible and others where access is easier if, for example, you rent a car.
The seabed of Torre del Mar has a high ecological value and you can make all sorts of diving incursions with companies that are dedicated to explore and conserve this precious good of nature.
In addition, in the yacht club you can enjoy other sports such as windsurfing, water skiing, wakeboarding, as well as paddle surfing and kayak rentals service at very affordable prices, Torre del Mar is not one of the most expensive areas of the coast of the sun.
A very good alternative of aquatic sport with children, is the water park Aquavelis, which will delight you in a large and small day without unforgiving this place.
Tower puzzle. Escape Room, in Isidoro Rivas Street, 3. An Escape Room is a different leisure alternative for all audiences. The activity takes place in a room with one or more rooms, full of enigmas, and strange objects. Each of the rooms is controlled by the director of the game. Once inside will begin an exciting adventure in which you will feel like protagonists of a film. The objective: to unravel the enigma and escape before the time is over …
What to visit from Torre del Mar
With your rental car you can visit the surroundings of Torre del Mar and the Axarquía to visit, for example, enclaves like the ones we propose below:
Nerja: other of the representative villages of the Axarquía valley, where you can visit its most significant enclaves, such as the balcony of Europe, its famous caves or its beaches of high quality.
Rincón de la Victoria, where you can visit such wonderful sites as Bezmilliana Castle, the watch tower of the Cantal or the treasure cave. This enclave is only 15 minutes by car, another reason to rent a car with Solauto.
Gastronomy
Along Torre del Mar, you will find multiple restaurants, where you can easily access your car or take a walk. Below, we show you a few of the ones we like the most, although it has been a difficult choice!
Bar Italia. Italian food, pizza, Mediterranean menu, vegetarian menus. Vegan options, Gluten-free options. Avenida Duque de Ahumada 7, 29740, Torre del Mar, Spain
My World Restaurant. Japanese and Mediterranean cuisine., Sushi, Asian international, vegetarian menus, vegan options gluten free options.Avenida Antonio Tore 16, 29740 Torre del Mar, Spain
La Brasserie. Belgian, European cuisine, vegetarian menus. Avenida Antonio Tore Tore 16, 29740 Torre del Mar, Spain.
Bere, Mediterranean and European food. Calle Gabarra 2, 29740 Torre del Mar, Spain.
Point and Pasta. Italian and Mediterranean. Vegetarian menus and gluten-free menus. Avenida Duque de Ahumada nº 21, 29740 Torre del Mar, Spain Represent this Property? Claim your listing here
Chiringuito El Boquerón Spanish Mediterranean Seafood Vegetarian menus Gluten-free options. Paseo Marítimo Poniente 16, 29740 Torre del Mar, Spain
Fry the cave. Seafood, Mediterranean cuisine, Spanish, vegetarian menus, gluten-free options. Paseo Larios 12, 29740 Torre del Mar, Spain Represent this Property? Claim your listing here
Siam2. Asian food Thai vegetarian options vegan options gluten free options. Avenida Andalucía 63 / Plazamar 63, 29740 Torre del Mar, Spain
Tanit restaurant. Mediterranean, European, Spanish, delicatessen, vegetarian menus, gluten-free options and vegan options. Avda. El Faro. | 23 Los Angeles Building, Torre del Mar, Spain
Typical Taberna The Mediterranean Well Spanish Spanish Vegetarian menus. Paseo Marítimo de Poniente 27, 29740 Torre del Mar, Spain
Useful telephone numbers in Torre del Mar
OFFICE OF INFORMATION AND TOURISM 952 541 104
HEALTH CENTER 952 541 405
HOSPITAL COMARCAL – Switchboard 951 067 000
HOSPITAL COMARCAL – Emergency 951 067 021
CORES 952 540 665
TAXI STOP 952 540 016
SANITARY DISTRICT OF THE AXARQUIA 951 066 900
AYUNTAMIENTO DE VÉLEZ-MÁLAGA 952 559 100
TENTH OF MAYOR 952 540 471
AQUALIA – COMPANY SUM. WATER 952 545 619
MUNICIPAL LIBRARY 952 544 399
Festivities in Torre del Mar
Torre del Mar has a great tradition in the celebration of the parties that are its own. Here's how and when the festivities take place in Torre del Mar:
February or March Carnival. Both residents and visitors are encouraged to go out in the street with their best costumes or just enjoy this show, which has reward; The funniest costumes have prizes that can reach 500euros!
March or April. At these dates takes place the Holy Week and the Axarquia and Velez-Malaga, feel passion for their Holy Week. Must visit is the Museum of Easter for lovers of the steps of Easter. Renting a car will have greater mobility and so you can attend different processions.
June 24 Feast of St. John. It is a party that in tower of the sea is lived with great intensity. Large bonfires are installed on the beach where whole families burn each year in their objects that bring bad memories. The little ones create very elaborate dolls and then they are burned.
It is a magical night full of concerts, in which perform national / international artists, local artists …
15 and 16 July Festivals of the Melosas in Torre del Mar. Also on July 16 is the Fiesta in honor of the Virgin of Carmen, patron saint of fishermen. All those who adore this virgin go out in procession through the streets of Torre del Mar, fulfilling their promises (barefoot, without seeing, carrying weight ..) once the procession ends, the virgin is taken by boat to the sea, conforming A beautiful seafaring procession in which it is said that the virgin blesses the waters for the rest of the summer.
These deposits are considered an international reference for the study of the Phoenician settlements and their development, later expanding their occupation with the Punic presence in the place and its continuity during the Roman period.
The geo-archaeological studies had one of their first research fields in Andalusia precisely in the deposits located at the mouth of the river Vélez, which allowed to know the relationship of Phoenician settlers with the medium through the knowledge of paleopalaje, Which was subjected both by the Phoenicians and the native population.
From July 22 to 26 Fair of Santiago and Santa Ana in Torre del Mar, where we can enjoy both the day fair, the Paseo Larios, and the night fair, all accompanied by music, flamenco shows, concerts , The classic fine wine and all the Andalusian art.
In addition, if you want to rent a car, you can go to the Malaga fair in mid-August (from the second Saturday and for a whole week), where the day fair is held in the city center and the Night in the enclosure specially enabled for it (the real one)